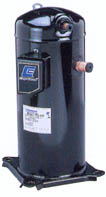 Copeland Compliant Scroll compressors are known as the most technologically advanced products on the market today, and have radically transformed the air-conditioning and heat pump industry.
Many Copeland `Compliant' Scroll design features distinguish the Copland Scroll from all others including extremely high efficiency, quiet operation, compact size, and high reliability.
Copeland's ZR Compliant Scroll compressors range from 1,5 to 15 HP, and up to 30 HP tandem assemblies. The 15 models are available in many 50 and 60 Hz motor versions, and have been approved for HFC and HCFC refrigerants. The entire range is available with either mineral oil or ester oil with the latter represented by the letter "E" in the model designation.Alongside the ZR range, a new ZP range is available for use with R410A refrigerant.
- ZR Series: 15 sizes, cooling capacity from 4.3 to 40 KW
- ZP Series: 4 sizes, cooling capacity from 5.5 to 9.8 kW with R410A
Copeland ZR and ZP Compliant Scroll compressors are suitable for use in high and medium temperature air-conditioning and heat pump applications with evaporating temperatures ranging from +12.5 to -20°C.

ZR Compliant Scroll compressors are also available in tandem versions that are identified by the letters ZRT (up to 40 kW) and ZZ (up to 91 kW) They consist of two identical compressors of the same capacity mounted on a single base and linked by the suction and discharge connections and a suction pressure and oil equalisation line. Tandem assemblies are available in 10 sizes with nominal capacities ranging from 23 to 91 kW.